Gerald "Jerry" Edward Wellman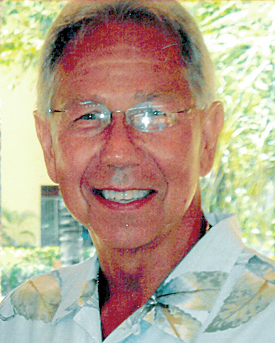 LIGONIER — Gerald "Jerry" Edward Wellman, age 69, passed away early in the morning on Sunday, October 2, 2016, at Lutheran Hospital in Fort Wayne, Indiana. He was born to the late George and Dolores (Gardina) Wellman on May 23, 1947, in Gary, Indiana. On December 20, 1969, he married Jane Ann Albright in Terre Haute, Indiana; she survives.

Jerry was a very hard working individual. He got his start in education with the West Noble School system. He taught health education, driver's education and coached football, baseball and wrestling. After 10 years he continued with his education background at ITT as a recruiting official and at the International Business College. Several years after that he became the vice principal then principal of Central Noble High School. He retired from Trine University as the director of adult education.

Jerry was the president of the Ligonier Lions Club as well as an active member of the Stone's Hill Community Church.

He was an avid fan of the following sports teams: Chicago Cubs, Notre Dame football, and the New York Giants. Above all of this, his favorite thing to do was spending time with his family and creating memories with his grandchildren. Many of these family memories were spent on the beaches of Florida and South Carolina.

He will be missed by many and remain in their memory as a coach, teacher, leader and friend. He is survived by his wife of 46 years, Jane Wellman, his two children: daughter, Krista (William) Horn of Syracuse, Indiana, and son, Aaron (Shellie) Wellman of River Vale, New Jersey; grandchildren, Kade Kitson, Quinn Kitson, Carter Kitson, Olivia Horn and Hudson Horn, all of Syracuse, Indiana, and Grant Wellman and Grace Wellman, both of River Vale, New Jersey; a brother, Dan (Kim) Wellman of Portage, Indiana; along with many nieces and nephews.

Jerry is preceded in death by his parents, George and Dolores Wellman, and his brother, John "Jack" Wellman.

Family and friends will be received from 2-4 p.m. and 6-8 p.m. on Thursday, October 6, 2016, at Stone's Hill Community Church, 151 West Stone's Hill Road, Ligonier. A funeral service will be held at 10 a.m. on Friday, October 7, 2016, at the church. Pastor Joey Nelson will officiate. Burial will take place at Oak Park Cemetery in Ligonier following the service.

Memorial contributions may be directed to the Ligonier Lions Club or to Stone's Hill Community Church in Jerry's honor.

Yeager Funeral Home is assisting the family with arrangements. Online condolences may be sent to the family at www.yeagerfuneralhome.com.


From KPCNews website