Willam Viera-Velazquez
October 5, 1945 - April 26, 2013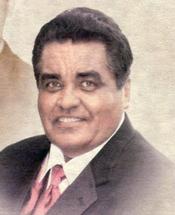 William Viera Velazquez, age 67 of Gary, Indiana passed away Friday, April 26, 2013. He was born on October 5, 1945 to the late Francisco and Andrea Viera-Velasquez in Guayama, Puerto Rico. He retired from the Gary Police Department after 17 years of service. He was a member of St. Mary's Catholic Church and the F.O.P.. William was a man of many talents and enjoyed giving home haircuts also known as the "Barbero" and working with heating and air. Now grandpa is watching over you Peter. He is survived by his wife of over 46 years, Maria Mateo-Velazquez of Gary, IN; 4 sons, William Viera Velazquez Jr., of FL; Humberto (Margarita) Viera of FL; Edwin (Maribel Gonzalez) Velazquez of FL; Eric Viera-Velazquez of Portage, IN; 3 daughters, Madeline (Scott Piro) Viera-Velazquez of IN; Celenia (Paul) Schmitt of Portage, IN; Melissa (Frank A.) Chabes Jr. of Portage, IN; 2 brothers, Hector (Christine) Viera of Portage; Harold (Rosa) Viera of FL; 11 grandchildren, Peter A. Colon II, Jessica Jones, Jada Velazquez, Christian Viera, Elias Viera-Velazquez, Analia Velazquez, Jiselle Chabes, Andrew Schmitt, Aden Schmitt, and Justin Velazquez and Isabella Viera Velazquez and numerous nieces and nephews. He was preceded in death by his brother, Nestor Viera. Funeral services are Wednesday, May 1, 2013 at 6 pm and Thursday, May 2, 2013 at 1 p.m. with Pastor Juaquin Rodriguez officiating at Rees Funeral Home, Olson Chapel, 5341 Central Ave., Portage. Cremation will follow with Rees Funeral Home and Cremation Service. Visitation is Wednesday, May 1, 2013 from 2 p.m. to 9 p.m. at Rees Funeral Home, Olson Chapel. Call (219) 762-3013 or visit us online at www.Reesfuneralhomes.com.
From Rees Funeral Homes and Cremation Service website.